"No Be Juju Be That" Man Balances Slippers on His Forehead for Several Minutes as He Undresses in Video
A man who can balance a slipper on his forehead and hold it for several minutes has been called a fixer The young fellow was seen performing the feat in a hair-raising video posted on TikTok by Olatunde Shola He was able to hold the slipper and then removed his shirt and wore it back in the video which has gained over 11k likes
Nigerians on TikTok are hailing a young man who can balance a slipper on his forehead. He performed the magical feat in a video posted on TikTok by Olatunde Shola.
"Shanty Town is a glorified Asaba movie" – Actor, Uche Maduagwu criticizes his colleagues for new Netflix series
Controversial Nollywood actor, Uche Maduagwu, has criticized his colleagues, Nancy Isime and Peter Okoye for their roles in the trending Netflix series, Shantytown.
Taking to his Instagram account he shared a video querying the need for Nancy Isime's nudity and why Peter Okoye, a singer was given a movie role.
According to him, the entire production of the movie was sub par and not worth the hype.
In his words;
"So after all the Hype on Shanty Town, I finally sat down to #watch and I was so confused, it was a glorified ASABA movie, the story line was so uninteresting and a little bit more like our regular ASABA movie, only difference was it super high quality cinematography and advanced better production.
When exactly did Peter of PSQUARE turn Actor? Nancy showing unnecessary body is more confusing, Walahi some #Yoruba movies have better story line than this, Na all Hype, and this is why E go TEY before Nollywood go smell OSCAR #Awards because we not ready to be extraordinary in our story telling, imagine in 2023, we are bringing out this?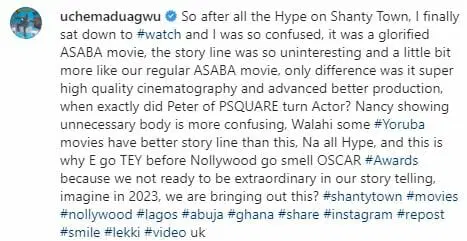 Watch the video below,
"You no inherit house from your papa nah another person papa house you dey feel entitled to" – Naira Marley's brother, Shuddy Funds knocks dancer, Lil Smart for expecting a room in Marlian house
Nigerian artiste and label boss, Naira Marley's younger brother, Babatunde Moshood Fashola, also known as Shuddy Funds has lampooned former Marlian dancer, Lil smart for calling out his brother.
The dancer shared a video on his Instagram story to lament the treatment he got from Marlian entertainment and narrate why he had to leave despite his love for the label boss, Naira Marley.


According to Lil smart, he had been with the label since the onset and expected better treatment when they finally became famous but he did not get any of that.
Watch him speak below;
Shuddy Funds who found his request absurd took to his Instagram story to call the dancer 'entitled' because he believed he deserved a room in the Marlian house.


He wrote,
"You no inherit house from your papa Nah another person papa house you dey feel entitled too
My guy no send anybody Baba dey build estates dey go"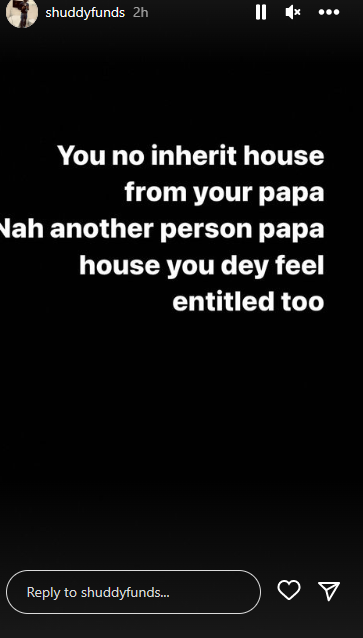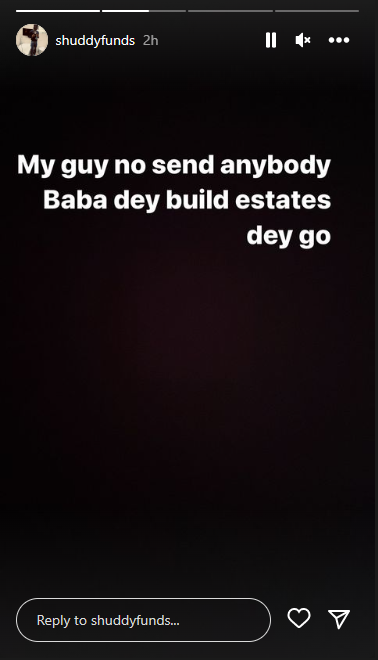 "I'm so fruity, I can make a man-go crazy" – Denrele Edun gives cryptic response to Nedu
Media personality, Denrele Edun has given a cryptic response to his colleague, Nedu, after he claimed that most male celebrities are either gay or bisexual.
Recall that Nedu stated this during a recent episode of his podcast 'The Honest Bunch'. He had claimed that 90% of men in the Nigerian entertainment industry are fruity – a slang word for homosexual.
Shortly after he made this claim, Denrele came out to boldly embrace the accusation in a rather cryptic post shared on his Instagram page.
The flamboyant crossdresser and entertainer admitted to being "fruity" and said he can make a "man-go" crazy.
He posted lovely photos with the caption,
"NEDU: 90% of Male Celebrities are FRUITY.
ME: I am so FRUITY, I'm a FINE-APPLE! 🍍
And I make a MAN-GO crazy!
Such a cute-CUMBER!🥒
Last Slide: Wanna sing this song for my VALEN-LIME 🍋
(as Valentine is around the corner)."
See below,
A while back, Denrele Edun recounted how intending candidates for Big Brother Nigeria reality TV show offered him money, nudes and other things so he may use his influence to make them a housemate.
His words,
"I get a lot of nudes from people who want to go for BBNaija. I get all kinds of monetary offers.
"I have gotten N100m, N50m, N30m and I tell people go and do something reasonable with your money.
"So, let's just say if you don't have a Denrele in your life that can help you rediscover yourself or help you get to the next level and give you direction to help you navigate your way through life, then what are you looking for? Go and find a Denrele.