More Photos From AY And Wife Mark 14Th Wedding Anniversary (See Photos)
More Photos From AY And Wife Mark 14Th Wedding Anniversary (See Photos)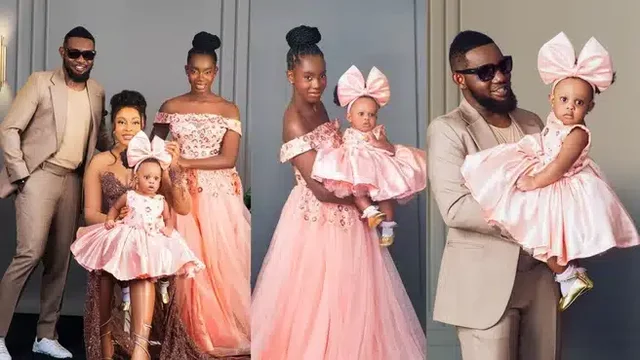 Nigerian super comedian and actor, Ayo Makunand his wife, Mabel Makuncelebrates their 14 years of togetherness.
The couple took to their respective social media pages to share photos of their beautiful family.
Sharing the photo with his followers, away wished his family a happy anniversary "Joyeux Anniversaire," he wrote; while his wife simply wrote: "God's hardwork".
The couple who got married in 2008 have so far welcomed to beautiful kids – Michelle, who is 13 years and Ayomide who is 9 months of age.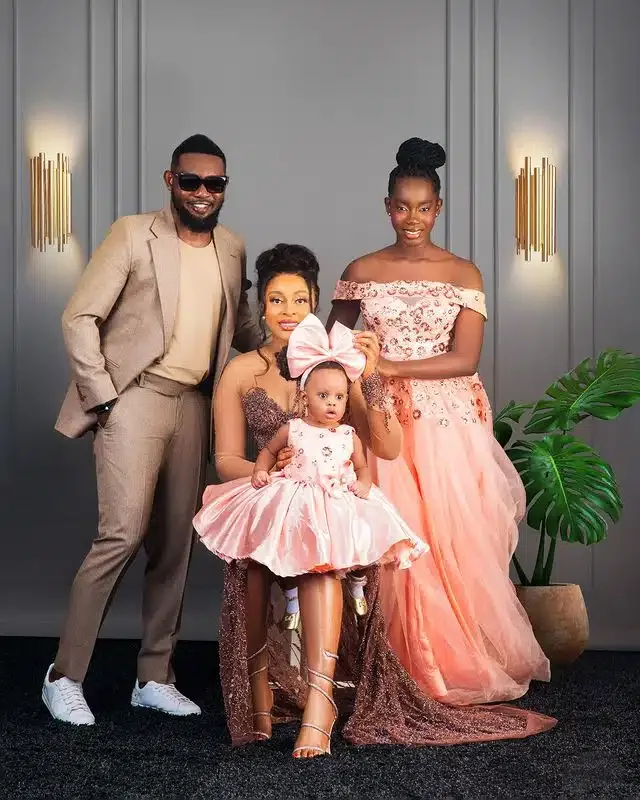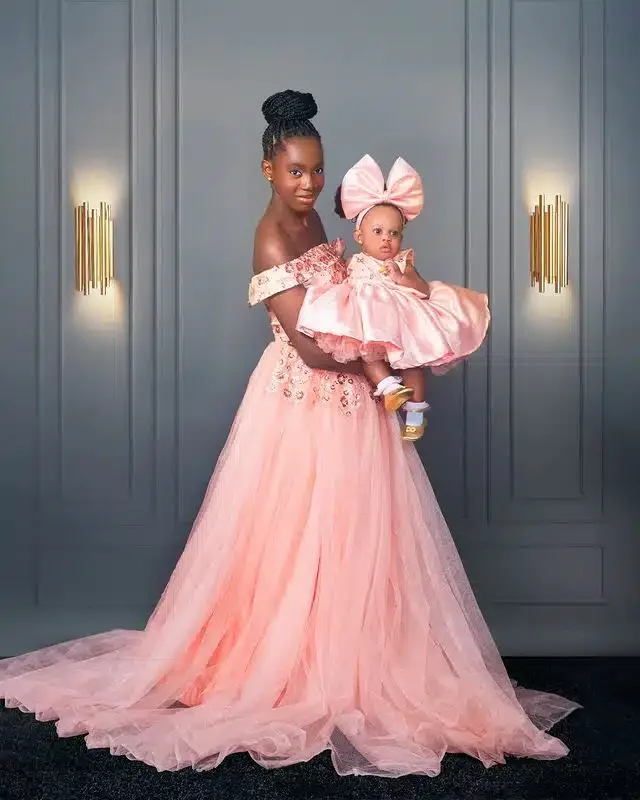 "Firmly in my child-free era" – 30 year old lady gets her fallopian tubes tied (video)
A 30-year-old lady has stirred reactions online after undergoing surgery to tie her fallopian tube.
The woman said in a social media video that she got the procedure because she didn't want to become pregnant and deal with the physical and emotional scars that would result.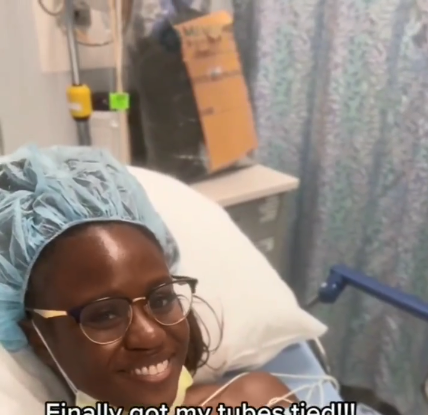 She wrote;
"Finally got my tubes tied!!!
Firmly in my childfree era. So proud of myself of taking control of my life and eliminating pregnancy scares and @borshun from my future🎀"
Watch the video below,
In other news, Popular Nollywood actress, Sandra Okunzuwa, shared a painful experience that made her despise men for a long time.
In a recent interview with The Sun, the screen diva discussed her traumatic experiences with men and how she overcame the trauma.
She said the experience made her hate men for a while, but she has now healed and moved on.
"Sexually abused as a kid? Yes. Mental health victim? Yes. In the society we live in, people don't talk about mental health issues; they expect you to visit your pastor and you will be alright. As an actor, it is not easy. First, you will have to embody the life of different characters and personalities, the good, the bad and the terrible.
Despite what you are going through personally, you have to wear a smile and keep entertaining people because that is what people expect from you. I think there should be a special therapist for entertainers, because it is not easy. Giving out joy to people and lacking where to fill up from. Most people are broken; they're carrying about baggage from the past, if you don't talk about it so you can get help, you will keep carrying it about until it destroys you. By sharing your problems with your partner, you can get help.
Lastly, being traumatized isn't a spiritual issue; it is a mental issue that needs a therapist. I will get married to my perfect partner someday. Before, it (the sexual abuse) kind of made me resent men, but I have healed from it and moved on. I am a lot better now." She said.
"We can't normalize fornication and then demonize adultery. Most fornicators are adulterers in training" – Pastor Kingsley Okonkwo preaches
Popular relationship coach, Pastor Kingsley Okonkwo, has averred that there was no difference between adultery and fornication.
In a series of tweets, Pst. Kingsley stated that both behaviors were abnormal as it involves sleeping with partners you aren't married to.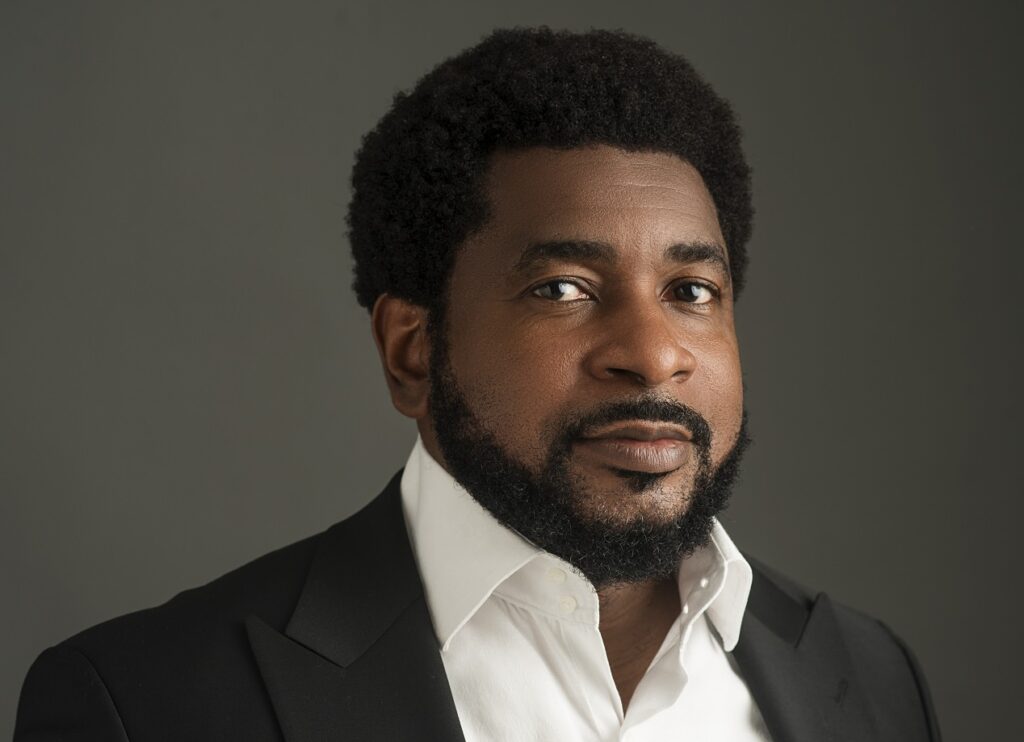 He wrote;
"We can't normalize fornication and then demonize adultery
They are one and the same, just Seperated by words or a signature
What most people don't know is that your mind can't draw the line between the two
Most fornicators are adulterers in training Even in scripture they are mentioned as same thing and used interchangeably
The biggest deceit of this generation is the belief that they can get away with one and avoid the other God has not called us to celibacy but to sexual purity, anyway that is a different thread
In closing let's follow God's advice irrespective of who is doing the opposite, man will NEVER be wiser than God Fornication is having sex with someone you are not married to, same thing with adultery"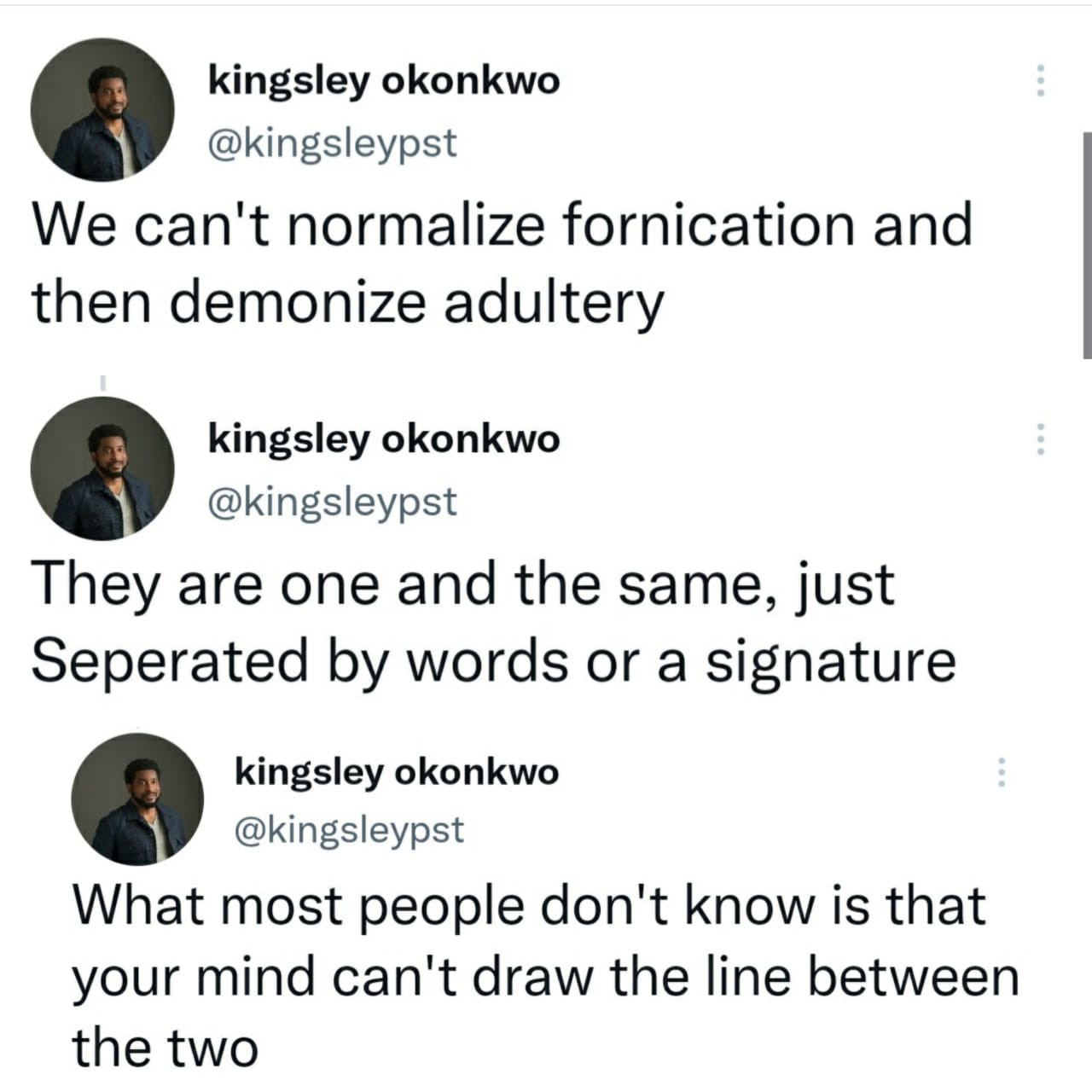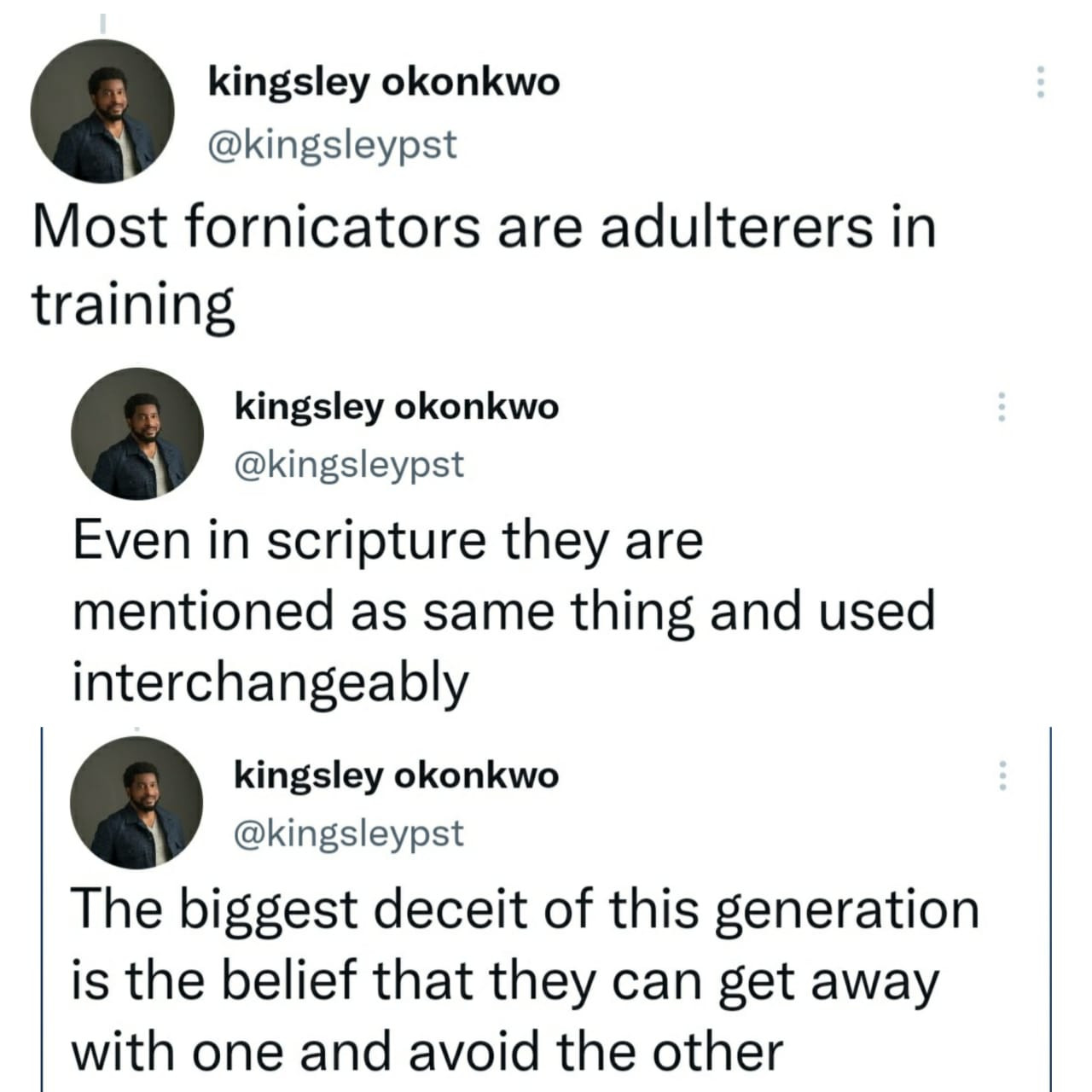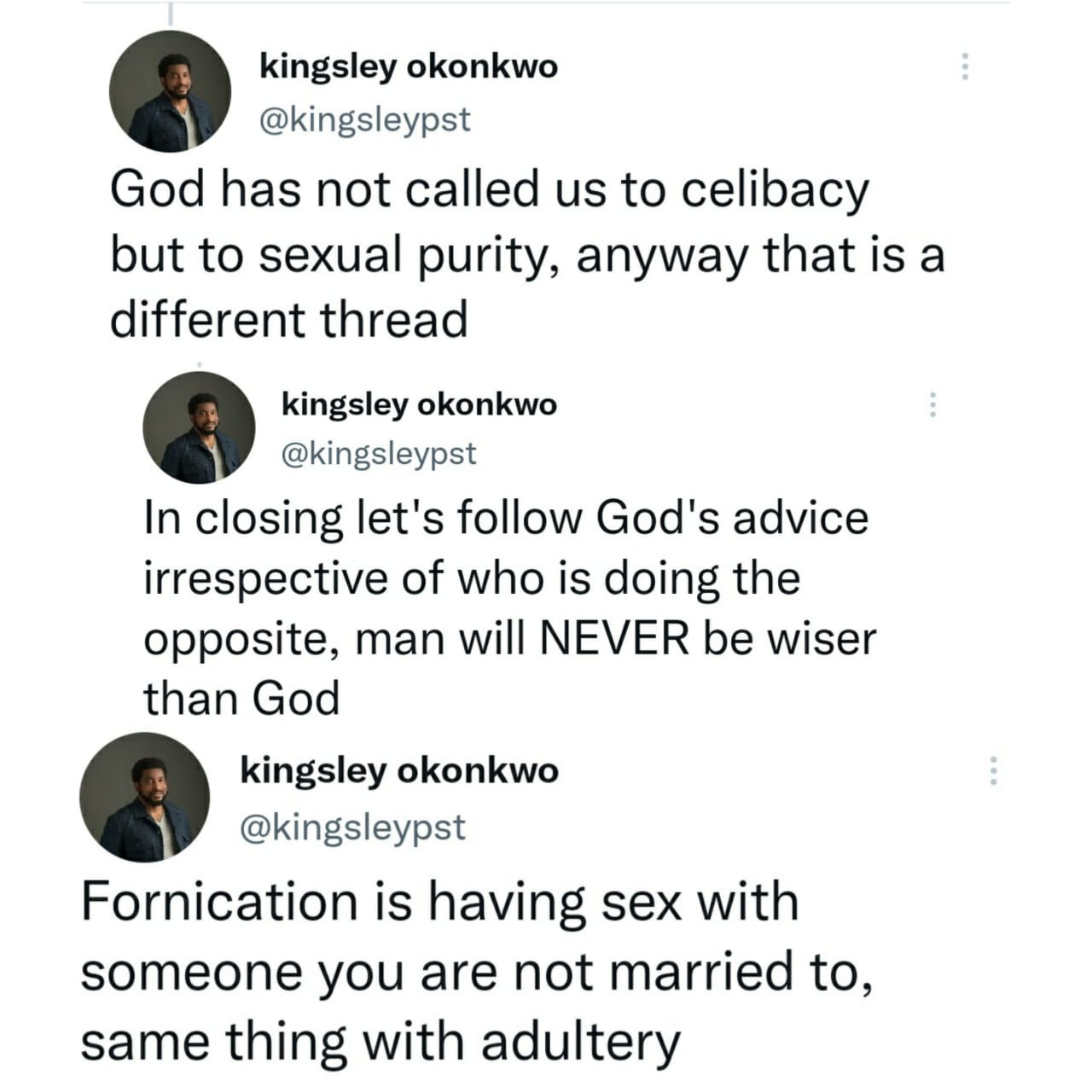 "Shanty Town is a glorified Asaba movie" – Actor, Uche Maduagwu criticizes his colleagues for new Netflix series
Controversial Nollywood actor, Uche Maduagwu, has criticized his colleagues, Nancy Isime and Peter Okoye for their roles in the trending Netflix series, Shantytown.
Taking to his Instagram account he shared a video querying the need for Nancy Isime's nudity and why Peter Okoye, a singer was given a movie role.
According to him, the entire production of the movie was sub par and not worth the hype.
In his words;
"So after all the Hype on Shanty Town, I finally sat down to #watch and I was so confused, it was a glorified ASABA movie, the story line was so uninteresting and a little bit more like our regular ASABA movie, only difference was it super high quality cinematography and advanced better production.
When exactly did Peter of PSQUARE turn Actor? Nancy showing unnecessary body is more confusing, Walahi some #Yoruba movies have better story line than this, Na all Hype, and this is why E go TEY before Nollywood go smell OSCAR #Awards because we not ready to be extraordinary in our story telling, imagine in 2023, we are bringing out this?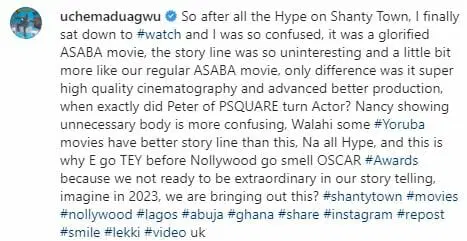 Watch the video below,